Crowdfunding Accountant: Up to date and in the know
Regulation Crowdfunding (CF) provides a carve out from SEC registration for certain Crowdfunding transactions. This exemption is a significant saver of time and professional fees.
Financial to-do
Financial information requirements depend upon the amount offered and under sold in the previous 12-month period. The regulation classifies crowdfunding issuers into three separate levels; see our own simplified table below: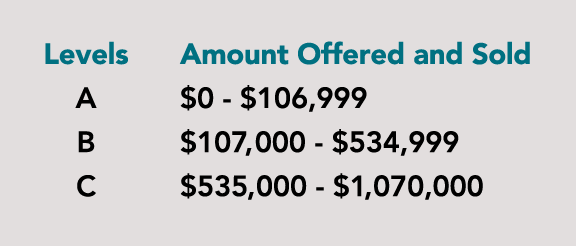 Requirement depending on levels:
Who we are?
We know what it's like to be a start-up. Our founder, Kevin Breard, first set-up shop on the kitchen table in his parents' San Fernando Valley home. He eventually moved into his own office, albeit a small one. In the early years, he spent many sleepless nights worrying about whether the Accounting company could support him and his family in a very competitive industry. After surpassing many regulations and start up business hurtles he successfully established a name in the financial industry. BAI has 35 years of working with small firms and 25 plus years in the securities industry. This means that crowdfunding sits squarely in our sweet spot!
What's the cost?
For a free quote for services, please complete our Fee Quote Request Form below. All submissions will be kept confidential under the ethics of a CPA. Non disclosure agreement optional.
Skip back to main navigation